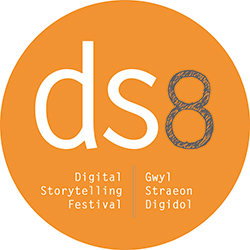 This just in from the organisers of DS8:
The 8th Digital Storytelling Festival in Wales promises to inspire, encourage and showcase exciting projects across a wide spectrum of digital storytelling activity.

After the success of DS7, this years event will once again be hosted by the University of South Wales' George Ewart Evans Centre for Storytelling and will be held at Chapter Arts in Cardiff on Friday 14th June 2013.

As well as keynote speakers, this year we will be including an academic element to the Festival and therefore announce a call for papers.

We wish to emphasise that DS8 is not an academic conference; however we would like to provide an opportunity to our wide range of attendees i.e. practitioners, researchers, community workers, youth workers and students to present either an academic paper or run a workshop/breakout session – the choice is yours!
For further details, and to book your place at the event, please visit the event website. Please keep checking this website for updates as they announce more speakers and the full event programme.
You can also follow updates on Twitter, @DScymru