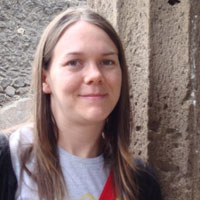 Alex Henry (Culture Shock!) showed nothing of the nerves she confessed to after the event, as she made her presentation to the the DS5 Festival. I am very familiar with the Culture Shock project. I was involved in a small way in the initial bid and subsequently in providing the training for the teams gathering digital stories in the North East.
Alex professionally took us through the progress and purpose of her project, leaving the emotion to the storytellers whose films were shown to capably illustate how successful the teams have been. They all prompted enthusiastic applause. If Alex had been in any doubt about addressing a theatre full of hardy workshop leaders, she had no need to doubt the status of her experience. Her peers were endorsing Culture Shock as authentic. She had a thing or two to say about accessioning and archiving "the collection" which makes everyone who gathers digital stories outside of the Museums discipline, feel uncomfortable. If the movement has a weakness it's in recording and storing our collections.
But one thing Alex said stood out to me. She talked about her hopes for the future after the Culture Shock project has finished. What about the legacy of the skills? What would happen to the equipment they had bought and the people that had been trained – both workshop leaders and storytellers? Could a way be found to place those resources in the community so that people could continue telling stories?
Perhaps something could be written into the initial bids for funds that defined what happens at the end. "Equipment to be placed in community projects/venues with the ambition of giving the project a legacy" That would stop the bureaucratic vultures descending and commandeering the resources – just because the kit is shinier than their office or studio's existing kit. It would be much easier to say – "Sorry, it already has a home!"
I wish I had done that with the Telling Lives kit when I left the BBC. Perhaps someone somewhere would still be proudly polishing those G4 Powerbooks as they reflected on the people whose stories had been crafted on them instead of them gathering dust because "it's a Mac and it might come in useful one day".