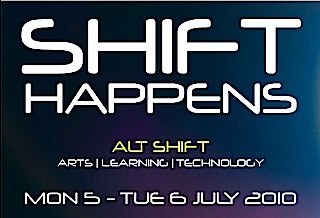 I'm at Shift Happens – not far to travel to this event – it's at the Theatre Royal in York just three minutes walk from my house.
Each of the two days is packed with speakers in the main theatre and surrounded by smaller events, performances and engaging demonstrations. Even food is provided.
Lots of time for networking, there's an avalanche of tweeting #shifthappens and hot on the heels of DS5 in Aberystwyth it's good to be inspired again in another area of the arts. This time mainly theatre.
Sadly I missed the Keynote speech from Sir Ken Robinson because I had to rush away to a board meeting of Riding Lights Theatre Company where I'm a trustee. I hope to be able to catch up on his presentation. He was live from San Francisco via Skype. Please say someone recorded it.
I found Hannah Nicklin from Loughborough University truly inspiring. Her presentation on Theatre in theAge of the First Person is available for download.  Best quote "You can't break the internet – and if you did you'd be famous" – or perhaps it was "There are no experts – we're all learning" or maybe …….. "
Andy Field of Forest Fringe ended his talk by reading out the responses to a question he posed on Twitter "Art is ….. " He has posted his speech and the twitter responses on his blog
The day's events were adequately covered by Colm, of KhaozMediaYork, who is blogging from the event.
Word of the day Pervasive