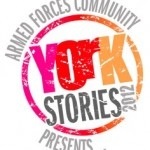 The Armed Forces Community Presents … Workshops are complete and the stories are finding their way onto the York Stories 2012 website.
But the highlight of this project – apart from the stories themselves of course – is that five of the digital stories will be shown on a big screen in St Helen's Square in the centre of York as part of Illuminating York. They will be on display 6.30-9pm Weds 31st Oct. – Sat 3rd Nov.
This is how it's presented on the Illuminating York website
Armed Forces Community presents…
St Helen's Square
Wednesday 31 October to 3 November inclusive
6.30pm – 9:00pm
Free

City of York Council is pleased to present a short film capturing the personal stories of local people with a connection to the armed forces. Be prepared to be astonished, amused and moved. Produced by Barrie Stephenson a pioneer of digital storytelling as part of Armed Forces Community presents… (www.yorkstories2012.com) and funded by a Community Covenant Grant. Look out for the big screen in St Helen's Square throughout the Illuminating York Festival.
Armed Forces Community Presents… is funded by City of York Council and Armed Forces Community Covenant